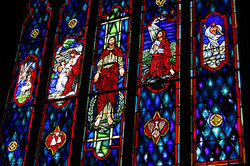 Services
The Bulletin is found on this page below, each week. You may download it or view it online. Printed copies are available and used during services. It is contains other information that is helpful.
We have three services weekly on our main campus. You'll find one that's right for you, your friends and family!
Contemporary Worship Service
8:45 a.m. in the Worship Hall
Relaxed dress - come as you are to hear music, testimony and the Word of Christ each Sunday.
Our bands keep this service lively and energetic for all.
Sunday School Classes
9:45 a.m. Second Floor for all ages every Sunday
Traditional Worship Service
11:00 a.m. in the Sanctuary
A service with beautiful pipe organ music and our choirs singing each Sunday. .
Celebrate Recovery - Mercy Place
5:30 Meal , 6:15 Worship each Thursday in the Worship Hall.
7:00p.m. Small Group Support
Our Bulletin
is linked below to download or view online for those who are unable to attend a service on Sunday. It covers both the Contemporary and Traditional service and is available in print and here online each week.
---
---